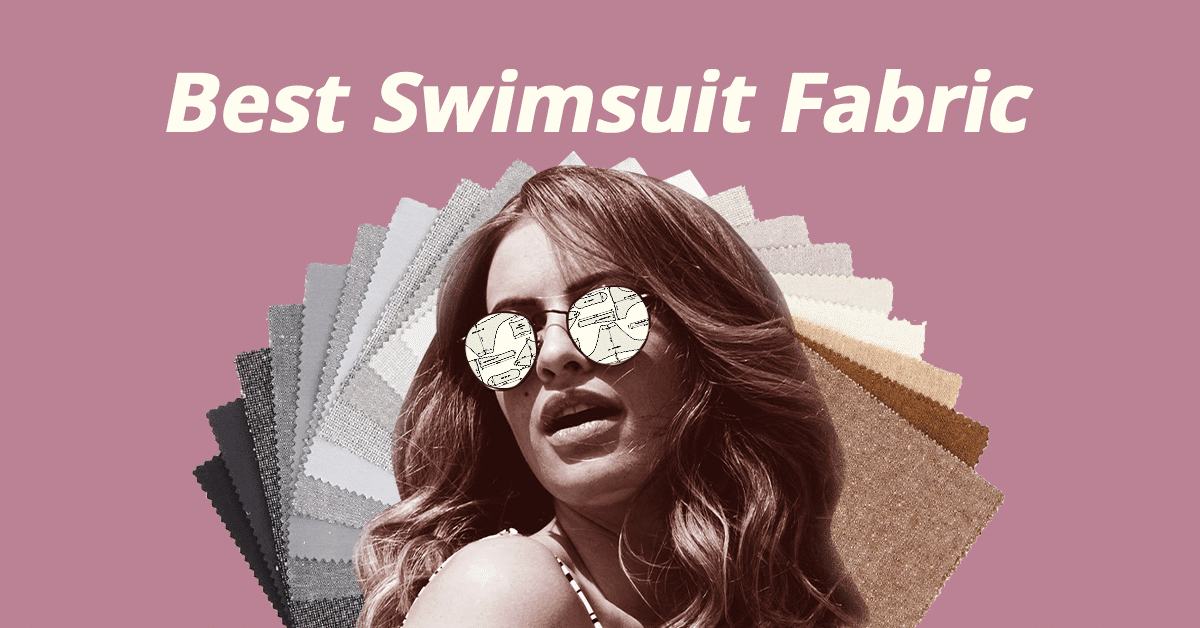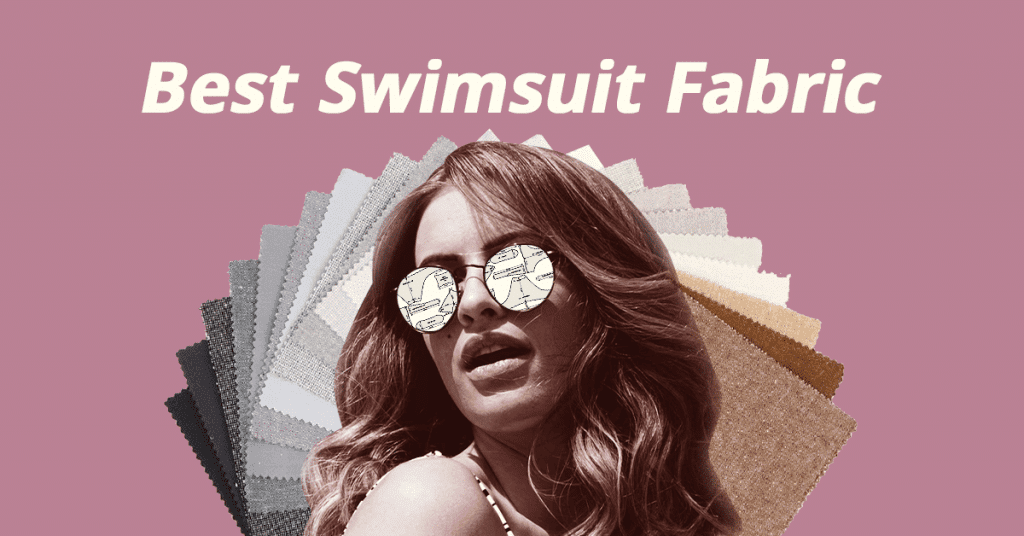 The best swimsuit fabric is a topic of hot debate in the fashion world. But the truth is that there really aren't a ton of options. Swimwear fabrics typically must be quick-drying, colorfast, and have a certain amount of stretch. Let's discuss some of the different options for swim fabrics and their various characteristics. Selecting the right swimsuit material for your needs will be easy after this!
All You Need to Know About Swimsuit Fabric
Most swimsuit fabric is meant to stretch to fit all those gorgeous curves and to allow for a comfortable and safe swim. The fabric also needs to be able to both hold its shape when wet and to dry easily and quickly. For this reason, almost every type of swimwear fabric contains elastane fibers.
Elastane is a synthetic fiber with elastic qualities that revolutionized the fashion industry when it was developed in the 1960s. Elastane is the generic name for Lycra or Spandex. Lycra, Spandex, and elastane are all basically the same thing, so don't get hung up on the branding.
Elastane is blended with other synthetic fibers to provide a comfortable stretch. The blend varies based on the manufacturer and the desired qualities of the fabric, but generally it is made with around 10%-20% elastane to 80%-90% other fiber(s).

Keep reading for more detailed information about bathing suit fabrics…
---
Starting your own swimwear label? Prototype can help!
We've helped hundreds of small businesses and startups and we can help you too.
If you're just getting started and need an affordable option to get started selling swimwear right away, you'll love our White & Private Label swimwear products available in our shop.
If you're interested in manufacturing your own swimwear designs, you'll want to learn more about Prototype and the various options we offer for swimwear manufacturing.
If you've already developed a line of swimwear and you're ready to go straight into manufacturing or maybe you need some samples made, then you'll want to get in touch to discuss your project.
---
Different Types of Swimsuit Fabrics
Natural Swimwear Fabrics
Natural fibers such as cotton and wool easily lose their shape when wet. They dry slowly and often hold a great deal of water. This makes them heavier and less practical than synthetic options. Definitely not a great option for swimming suit fabric. Unless you're planning to just hang out and look great on a sun chair!
Fabrics like knits and terrys made from bamboo and cotton are often used for retro-style swimwear. They give a distinctly 1950s-1960s or even earlier vibe. Why? Because, as we learned, elastane was developed in the 1960s, so anything before that wasn't able to achieve the stretchy quality that came later.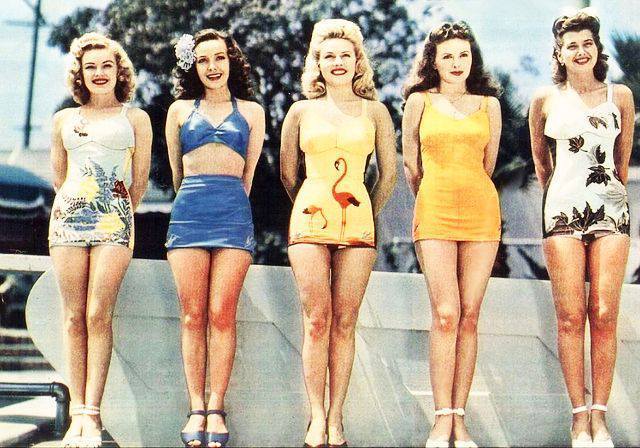 In general, natural fibers are not a great option for swimwear that is meant to be used for swimming. If your particular swimsuit design calls for natural fibers, feel free to contact us directly with any questions.
Polyester Swimsuit Fabric Blends
Polyester swimwear fabrics, blended with Lycra (or spandex), have the greatest level of durability. Stretch polyester, however, is a very general category. There are literally hundreds, if not thousands, of different blends from various fabric mills. With each type, the blend percentage of poly to spandex will vary to some degree.
The density of the knit and the softness will vary as well. Much of the difference in quality has to do with the quality of the filament used in the textile mill to create the fabric. For that reason, you'll find a wide range of differences in the way polyesters look and feel. A thick filament (similar to thread) will usually result in a coarser feeling fabric. A thin, smooth filament will result in a smoother, silky feel. It's important to feel the fabric and stretch for yourself before making a final selection.
When looking at swimwear blends, you'll often see the terms "Lycra", "Spandex" and "Elastane". So, what's the difference between Lycra and spandex? Easy. Lycra is a brand name, a trademark of the DuPont company. The others are generic terms. They all mean the same thing. Functionally, you won't notice any difference between swimwear made with any of these 3 or any of the other brand name elastane fibers you might find. An exception to this, however, is with eco-friendly elastane options that are beginning to come on the market, as you'll read below.
Qualities of Polyester Swimwear Fabric
The qualities of polyester that are most relevant to swimsuit fabrics are:
Durability: Polyester is a highly durable fiber. It holds its shape well in and out of the water. It resists pilling (the little balls of fuzz that can appear in the crotch and armpit areas). This is a common issue in surf swimwear, where the suit is in constant contact with the board
Colorfastness: Polyester holds color very well in both dyes and prints.
Cost: Polyester is one of the more reasonably-priced swimwear fabrics available
Look/Feel: Polyester gets a bad name for its perceived "roughness" as far as hand feel goes. That notion is a bit outdated, however. Modern poly fabrics have improved dramatically and become quite soft, though not quite as much so as nylon.
Digital Print: Polyester can be digitally printed using sublimation. Colors will be bright, saturated, clear & permanent. Sublimation dyes and machines are specifically designed to perform on polyester.
Sustainability in Polyester
Polyester is easily recycled and comes from a variety of sources. "Post-consumer" means polyester that comes from a recycled source, such as plastic bottles, carpet, and other plastic sources. So, if a fabric claims to be "100% post-consumer" recycled, that means that all of the material used in the production of the fabric filaments has come from waste material. That's the most eco-friendly option.
Is polyester sustainable? Is it eco-friendly?
That's a tricky question. It depends what we're comparing against. As I've mentioned above, natural fibers do not perform the same way when wet as synthetic fibers. So we can't fairly compare polyester to anything natural. Strictly speaking, there are no 100% "sustainable" or environmentally friendly synthetic fibers. All create microplastics, all pollute our water supplies. Bummer, right!? Sadly, that's just the truth of the situation. Sustainable swimwear fabrics just don't have the level of sustainability that we wish they had. However, by using recycled polyesters, you're certainly making a superior choice to virgin polyester.
For a great resource on the subject, take a look at this wrap-up from Common Objective about sustainable stretch fabrics.
Nylon Swimwear Fabric Blends
The nylon spandex swimsuit fabrics are some of the most popular. This is mostly due to its super soft feel and its ability to have a glossy or satin sheen.
Qualities of Nylon Swimwear Fabric
Durability: Nylon is a strong fiber in terms of tensile strength, so it is well strong enough for use as a swimsuit fabric. However, it degrades more easily under UV (sunlight) and pills much more easily than polyester.
Colorfastness: Nylon does not hold color quite as well as poly.
Cost: Prices of Nylon can range widely, but is generally just a bit more than poly.
Look/Feel: Nylon has a great, soft handfeel and that is the primary reason for its popularity, in addition to its wider variety of sheens available.
NOT Printable at Low Volume: Many printers will print artwork to nylon fabrics, but it is NOT INTENDED for sublimation printing. It can be done, but it is not colorfast, washes out fairly quickly and has poor definition with vector artwork. Definitely not recommended for a quality product.
Sustainability in Nylon Fabrics
Nylon is most typically recycled using "pre-consumer" material, which is somewhat less eco-friendly than post-consumer. This means that the materials are coming from a stream of waste that has not yet been used by the consumer. Being upstream of the consumer means that this material has not yet been used by the consumer, which means that it's closer to "raw" than post-consumer material. The source of this material can sometimes be a bit suspicious, making it easier to "green-wash" this recycled product.
However, Econyl, a recycled nylon swimwear fabric has gotten enormous press for its use of fishing industry waste in its recycled nylon filament. Other companies have begun producing recycled polyester fabric products as well. While there is some debate about the environmental impact of the recycling process itself, there can be no doubt that upcycling plastic waste into the fashion industry is a good thing.
For a great resource on the subject, take a look at this wrap-up from Common Objective about sustainable stretch fabrics.
---
Are you thinking about starting your own swimwear label?
There's no time like the present! Contact us to get started today!
---
So, what's the best fabric for swimwear?
The best swimsuit fabric is the one that makes the most sense for your needs. For practicality, we like the easy printing capability and durability of polyester. I also believe that the environmental impact of polyester can be better managed than nylon.
However, the feel and finish of nylon is still unmatched by polyester. Polyesters are coming closer and closer every year, but still have a little way to go to match the look and feel of nylon.
Here at Prototype, we offer a wide variety of swimsuit fabrics, as well as the ability to use anything that you are able to source. Contact us now and tell us about your business and your needs. We'll be happy to help you from there!