Some of us may have had to put our summer travel plans on the back burner, but this doesn't mean we can't catch some rays, drink a few Piña Coladas (Ice-cold Corona is OUT for 2020!), and look super stylish in one of the latest 2020 swimwear trends!
So, let's take a look at Summer 2020 swimwear has in store…
1) Skimpy Is Back
If you are not afraid to show a bit of skin, you'll be delighted to hear that skimpy swimwear is back in fashion. We've seen a lot of daring cutouts that are sure to turn heads. 2020 is the year whereby wearing a one-piece doesn't have to mean covering more of your skin! Combine dramatic cutouts with bright colours for a statement look.
2) Retro 90s Swimsuits
Trends of bygone decades have a habit of coming back, and this year the '90s are officially in full swing. So, it probably no surprise that iconic '90s bathing suits are set to be a huge trend over the coming months. If you can't cast your memory that far back, don't worry, we've got you! Hopefully, tie-dye bikinis, scoop necks, and cheetah print will help to refresh your memory? Oh, and don't forget about the iconic red one-piece that was made famous by Baywatch. If you've always wanted to wear one, now is your chance. Pamela Anderson, eat your heart out!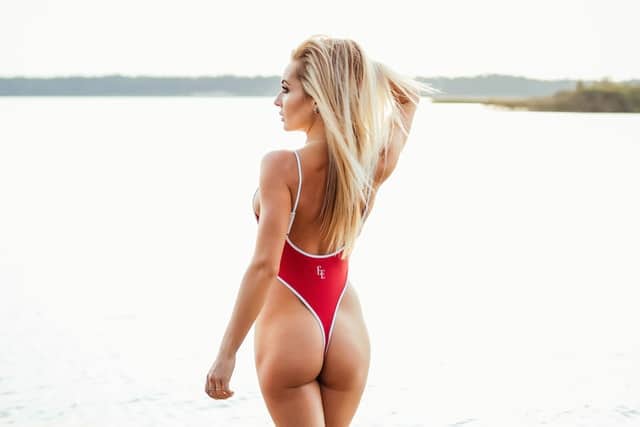 3) Underwire Bra Bikini Tops
If you are looking for a little bit of lift in your bikini top or some extra support, your prayers have been answered with the increasing number of underwire bra tops that are being released by fashion houses. You can expect this structured style to come in many different prints and colours, so you should have no trouble finding one that matches your taste.
4) Ruched Swimsuit
A little bit of ruching in a swimsuit can go a very long way! This is one of the most flattering 2020 swimwear trends, as ruched fabric is known for having a slimming effect. You can target parts of your body that you're most uncomfortable with, as some pieces will have ruching on the sides, whereas others will have ruching on the midsection. You can also find both bikinis and one-pieces with this detail.
5) Neutral Color Swimwear
Think beautiful shades of chocolate brown and tan! These are the new neutrals that are going to be making an impact in 2020 swimwear trends. The hues are warm, inviting, and soft, all of which pair perfectly with your sun-kissed skin.
6) Microkinis
This is another trend for those who like to show off a bit of skin! We have seen a lot of celebrities sporting micro-kinis, from Jennifer Lopez to Bella Hadid. There are lots of different styles of microkinis. As the name suggests, it's simply about wearing something smaller than the typical bikini. The underboob bikini seems to be a popular swimwear trend for 2020, but how much you want to reveal and where you want to reveal it is up to you!
7) Ruffle Sleeve Swimwear
If you want to add a feminine touch to your swimwear collection, look for bikinis with ruffle sleeves. When the breeze reaches your part of the beach, your ruffles will gently sway in the wind, giving you a true sun goddess look. This small detail can turn any plain two-piece into something more contemporary and catwalk-worthy.
8) Textured Swimsuits
If you have grown a bit tired of bright colours and florals, this trend will be a breath of fresh air! It's a more minimalist bikini style, yet it has that understated style that everyone will appreciate. From seersucker to ribbed material, we're going to see a lot of textured swimwear fabric on one-pieces and bikinis over the summer.
9) Full Sleeve Swim Tops
If you're not someone who likes to show a lot of skin, don't worry; 2020 still has plenty of great trends in store for you. We're a huge fan of the sleeved-swimsuit trend. This surf-girl-approved look is great for protecting yourself from the sun too. You'll see many of these swimsuits with a zipper detail, which means you're in full control of how much cleavage you want to show.
10) Neon Lights
Finally, there is no denying that neon colours are making a massive impact in 2020 swimwear trends at the moment. From Hailey Bieber to Katy Perry, we have seen a lot of Hollywood's finest rock this look. It's been a massive hit over the Miami runways as well. So I guess you could say the 80s are back too…. Again!
The Top Swimwear Trends 2020
So there you have it: the best swimwear trends for 2020! From '90s retro bikinis to textured swimsuits, we've got some really fun options. Which one is your favourite?