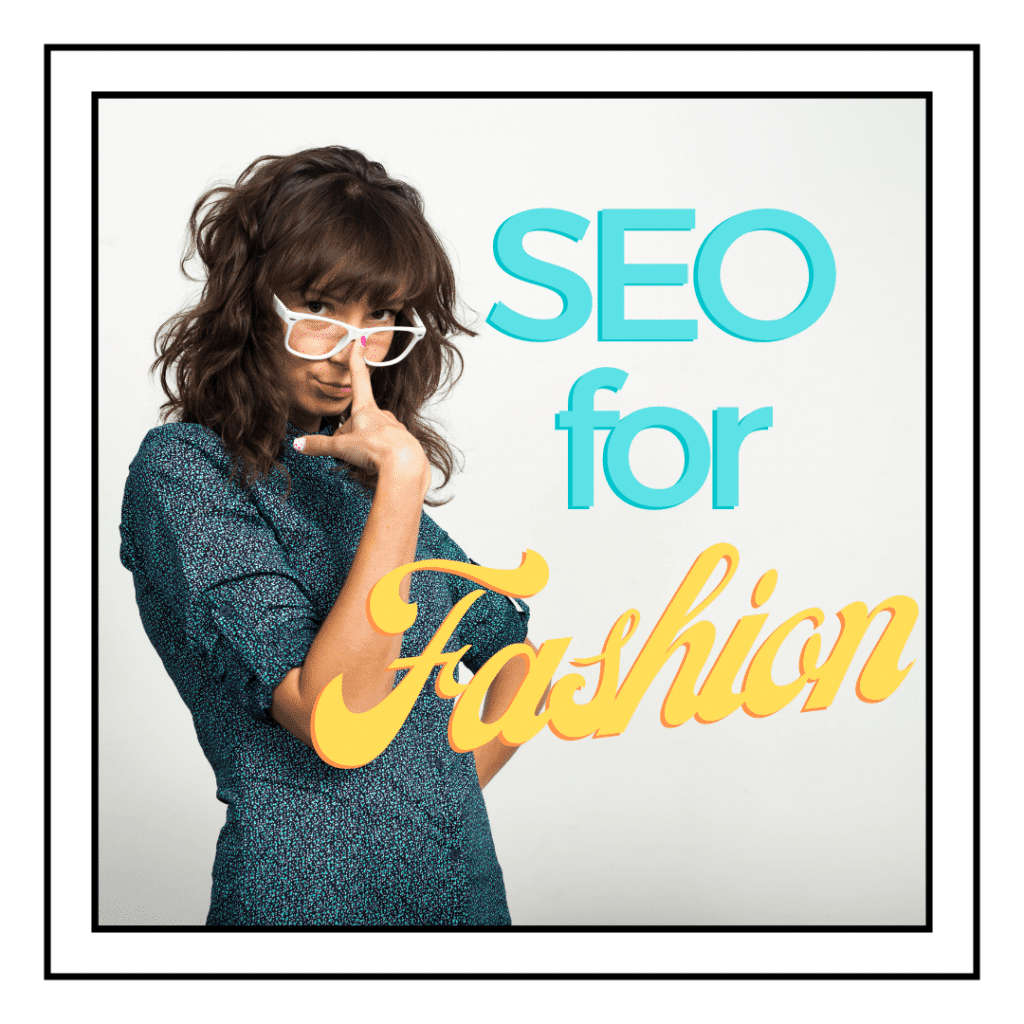 Let's be real. Getting noticed online is crazy difficult. Especially when you're selling something! Here we'll talk about one the nerdiest topics on marketing for fashion brands…. SEO. It's one of the most important, yet overlooked, ways of getting noticed online.
---
Digital Marketing for Fashion
What is SEO? Why should I care?
SEO stands for "search engine optimization". Now before your eyes glaze over and you click over to another article, let me tell you why you should care about SEO.
How does SEO work?
It's actually quite simple. It's hard to master, but it's easy to get started and to make a big difference to your fashion label or e-com shop.
Fashion SEO is all about keywords. A "keyword" is just a term that you would search for to find anything you search for online.
How do you get keywords? Basically, all you have to do is write good content for your website or your fashion e-commerce shop. That's it! The keywords will naturally appear in the material that you write.
So what's the catch? There is no catch. That is literally all you have to do… write content!
Sounds incredibly simple, right? That's because it is! It can be a bit time-consuming, sure. It can be frustrating at times when you're not sure what to write. But at the end of the day, you need people to find your site. And the only way that's going to happen is if you sit your butt down, focus for an hour or two, and get some content written! ?
What are good keywords for fashion SEO?
The best keywords for a fashion brand are the keywords that relate to what you're selling. Do not try to write about things that don't relate to your business and to what you're selling. The best SEO for fashion is to just talk about exactly what you're selling.
As an example, if you're selling baby swimsuits, you're going to want to focus your content on "baby swimsuits. You also need to consider what else they might be called, like "baby swimwear" or "baby swimmers". Include these various terms in your content so that people searching for them will be able to easily find you and your products.
Good keywords for a fashion e-commerce site, for example, are going to be keywords that relate to each item for sale. This will happen in the description of the item itself. If you're trying to gain exposure with your Shopify site, you'll want to spend some time with each item, making sure that you fully explain what each item is, using all the various keywords that relate to each item specifically.
Keywords for a fashion designer might be more generalized, but you'll need to find something unique about what you're doing that you can talk about. If you're in a certain location, like Hawaii, for example, you'll want to use the phrase "fashion designer in Hawaii". This will make it far easier for Google and other search engines to read your content and deliver it to the audience that is searching for it.
Keywords for fashion bloggers might be way more broad, but again, SEO for fashion is just all about writing good content that meets the needs of the reader. If you write on topics of interest to your readers, the keywords will naturally appear!
Unique Products = Unique Keywords
Which do you think will be easier to be found on google for: "Red Shorts" or "Red Gnome Hat"?
Here's a hint:
According Ahrefs, the search volume for "red shorts" is about 2,400 monthly in the US. "Red Gnome Hat", on the other hand, has about 100 searches. The more common item has 24x more searches than the more unique item. So which should you sell?
Conventional wisdom might tell you that something that more people are searching for is a better product to sell. But, when it comes to selling fashion online, that's not necessarily the truth. Knowing what you know now about fashion keywords, if you're a smaller brand then you'll have a much easier time getting noticed if you have a more unique product.
SEO for fashion ecommerce follows those simple guidelines. Find something unique to tell, talk about that item and describe it well. Your site will rank well for those keywords and you will attract customers, simple as that! It's all part of a good, solid branding strategy.
Need Help With Your SEO Strategy?