Great news for crypto investors in the fashion space…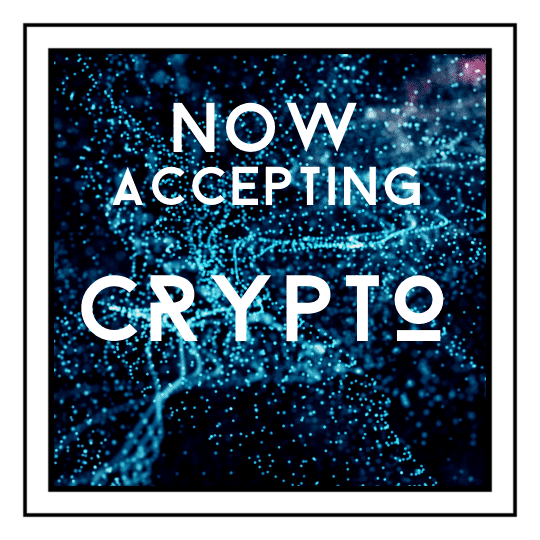 Prototype now accepts cryptocurrency payments for services! We're listening to our customers and we want to offer the widest number of payment options available. For many of our global clients, crypto offers an easy payment method, without the need to have a credit card or lose money in foreign exchange.
What are the benefits of cryptocurrency payments?
There are lots of benefits to using crypto for payments:
If you're sitting on crypto and not using it, you might want to consider putting that money to work for your fashion brand. Activate your investment!
If you have limited access to a bank with wire capability or high transfer fees, you might prefer to conduct business in crypto for convenience and lower fees.
Using your crypto builds and stabilizes its value. Any currency is valuable only insofar as it has some useful function. As an investment instrument alone, crypto has a spotty track record. To reach its potential, crypto needs to be used for practical purposes.
Crypto payments are immediate and easily tracked, which means we can process your payment and get started on your project quicker than ever!
How do I pay with cryptocurrency?
Cryptocurrency payments are easy with Prototype. There are 2 different ways to pay with crypto:
First, if you've been invoiced for services, such as Black Label product development services, branding, SEO or others, you can simply request our accounts department to send you crypto payment details. From there, you can simply use your wallet or a QR reader and transfer to us directly.
Secondly, any of our services that are available online via our Shop can be paid with crypto during the normal checkout process. Just choose crypto as a payment option and it's easy!
Why can't I pay for manufacturing in crypto?
Unfortunately crypto is just too volatile for us to take payments for manufacturing. Manufacturing costs are very sensitive, with slim margins and they depend on their own marketplace of fabrics, shipping, and labor costs. It would be prohibitively difficult for us to constantly re-quote all of our clients' products based on the rapid fluctuations that crypto experiences.
In the future, however, we'd love to be able to accept payments in crypto once the market stabilizes and begins to behave itself. For now, however, we only accept payment for services because we can tolerate more risk with services than we can with our manufacturing orders.
What types of cryptocurrency do you accept?
Great question. At this time we accept the following 7 major cryptocurrencies:
Bitcoin
Ethereum
Litecoin
Neo
Matic
Binance SC
Avalanche C
Do you have plans to accept more types of crypto?
We are open to accepting other currencies on a case-by-case basis for large transactions. Our payment processor, however, only supports these 7 options at this time. Please contact us if you wish to discuss this or other payment options