What is Private Label Swimwear?
The definition may vary a bit depending on suppliers, but most typically private label swim products are swimwear designs that have been designed and developed by a company who then customizes them to your specifications and sells them to you. This process allows you to have a hand in the creative process, but you are able to avoid the hassle and expense of developing your own product from scratch.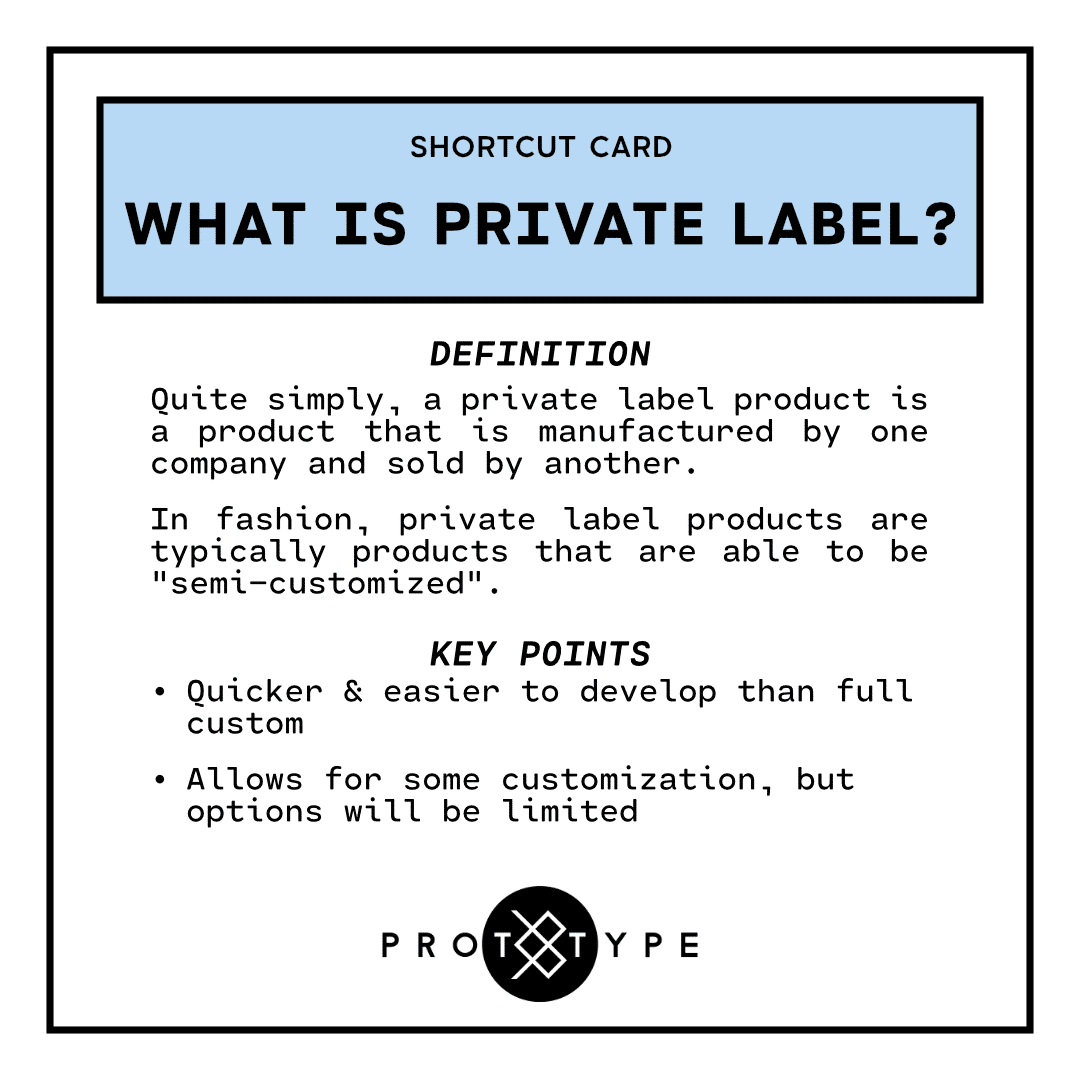 Why private label instead of custom?
It may not seem like it at first glance, but the truth is that there is a huge amount of work that goes into producing any type of sewn product. Every product has to be carefully designed, tested, fitted against all sizes, tech-packed, sampled and more, before it can finally be available for sale. If you're the one paying for all that custom work, it will be time-consuming and costly. A single custom bikini, for example, could run you $1200. That's money you'll save when you buy a private label bikini design.
There are situations, of course, where a fully custom product is the only solution. For that we offer our Black Label services.
What can I customize?
What types of things you can customize on your private label products depends on the product itself. On some, you'll be able to customize features like pocket designs, buttons & snaps, zipper types & colors. On others it will be simpler, such as just a custom digital print to make the design stand out as your own.
What can't I customize?
With Prototype, we draw the line at the pattern itself. If the pattern needs to be changed, then that triggers a waterfall of changes across the entire product, from the patterns to the grading to the samples to the tech pack. A change to a pattern is automatically an entirely new product. We know that may seem drastic for SUCH a small change, but trust us, it's a huge amount of work. You're welcome to do it, however! It will just fall into our Black Label services category.
Types of Private Label Swimwear
Private label products are only limited by availability. As you can imagine, the models that sell better tend to be more widely available. At Prototype, we try to provide a blend of trending swimwear styles, some cutting edge styles and some classic swimwear styles.
Private Label Bikinis
Bikinis are the most popular style of private label swimsuits. They are typically available in a wide range of styles, ranging from skimpy to modest. Popular styles vary quite a lot based on region also. In Australia & New Zealand, they're loving the super cheeky styles that show off the full bum. In the USA, many of the styles are either bit more modest OR way more risqué. Like all things American, we love our extremes! ?
Private Label One-Piece Swimwear
One-piece swimwear is back in style and here to stay. There are tons of options ranging from classic designs to retro 80s, to party-in-the-back styles with a thong. Another popular private label one-piece is the surf swim styles, which are designed to be functional and durable in rigorous surf conditions.
Private Label Men's Swimwear
Rash guards are growing in popularity for men's swimwear. What with the planet heating up and all, private label rashguards are guaranteed sellers now and forever. More and more men are becoming aware of the dangers of long-term sun exposure, particularly in Australia where the sun can be brutal.
What's the MOQ for Private Label Swimwear?
The MOQ varies based on the style, but in general Prototype offers an MOQ of 50 pieces per color per style. More complicated designs such as an underwire bikini may require 100+ pieces. Each item in our shop notes the MOQ required for that item.
Ready to get started? Here's some next steps…
Compare Private Label vs White Label vs Black Label
Other Helpful Links
Private Label Pros & Cons